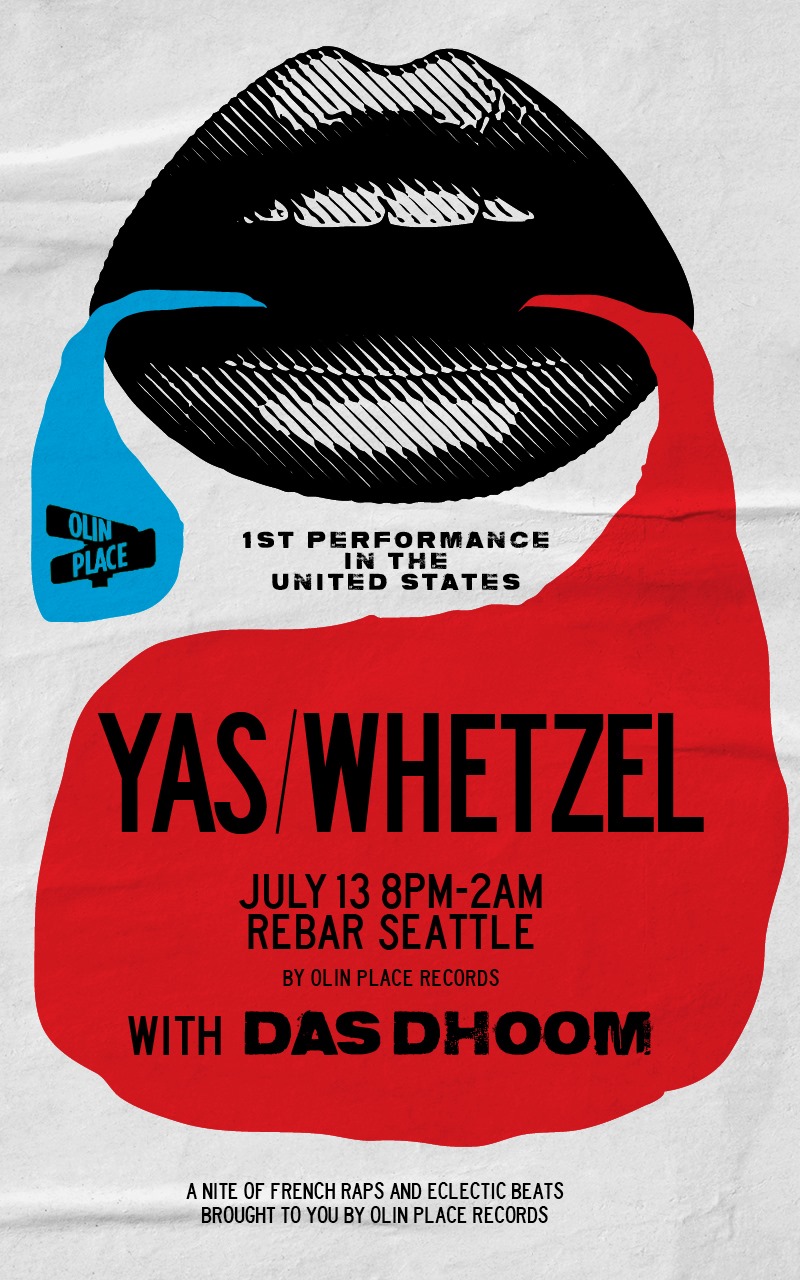 Olin Place Presents Yas/Whetzel at Re-Bar

| | |
| --- | --- |
| | 13 July 2019 |
| | 20 h 00 min |
| | Seattle,WA. USA |
| | RE-BAR 1114 Howell St, Seattle, WA 98101, USA |
Saturday, July 13th, 2019 Yas/Whetzel will play their first ever show in the United States in Seattle, WA at the iconic Re-bar!
Doors at 8pm, with first opening set by Whetzel (AKA James Whetzel) at 9pm, second set by Das Dhoom at 10pm. Yas/ Whetzel play the final set at 11pm. Tickets will be $10 before 9pm and $15 after 9pm.
For the Whetzel set James has some new break dancing tempo beats he'll be playing live palm wine style guitar over, and then he'll grab his electric sarod and play his hits. Which will include his covers of Psychic City, Beat and the Pulse, and his tunes International Bossa, God Rest Ye Funky Bhangra, and Washington State.
Das Dhoom is reuniting as a duo of Sebastian Lange on violin and beats, and yours truly, James Whetzel, on electric sarod and beats. This will be Das Dhoom's first performance in 8 years. Definitely something to see and hear. Das Dhoom is what happens when the industrial beats and classical music of Berlin meet Hindustani classical music and Bollywood and Bhangra.
Yas / Whetzel is the dynamic duo of French poet/rapper Yas with James Whetzel. Yas's vocals are in French and English, and the music is all over the map with hip hop, indie, dancehall, highlife, congolese rumba, tabla, dhol, and middle-eastern beats in the mix.
Good links to the music:
Yas / Whetzel:
https://jameswhetzel.bandcamp.com/album/life-is-raining https://itunes.apple.com/us/artist/yas-whetzel/1215509376
https://open.spotify.com/artist/4SwSvnsAj4P4ZcEBMHSz9j
Das Dhoom:
https://open.spotify.com/artist/459jEvlPJugFGYexiozlGf
Whetzel:
https://open.spotify.com/artist/2omInvfhJWT2YmmxEiSE4d
https://open.spotify.com/artist/03LZ7B9gRWrXJnySokna7M
Whetzel Picks Whetzel: https://open.spotify.com/playlist/1hnDrR6tHXAll0WsQuAEM1
https://music.apple.com/us/playlist/whetzel-picks-whetzel/pl.u-Ymb0xygfBxDVe